A message to graduates
Dear School of Engineering Graduate:
It goes without saying that 2020 has been a year of the unexpected. We've been forced to do things differently than we have in years past, especially when it comes to gathering in large numbers. That has included classrooms as well as gatherings of all types, including the School of Engineering Convocation.
But the good news is, despite the continued pandemic, you are still soon-to-be graduates of the School of Engineering and Computing! And that deserves celebrating, however different it may be from what we would call "normal."
In crafting this semester's Convocation, we listened to a lot of students, parents, faculty, and staff to get input on how to make this special event as meaningful as possible while maintaining safety for all. In light of the current public health situation, and in light of the fact that your accomplishments deserve a celebration, we wanted to share what we are doing for the fall 2020 School of Engineering Convocation.
There will be no in-person ceremony for students. With in-person classes ending at Thanksgiving break, we felt it was wise that the School of Engineering not encourage students and families to come back to campus, increasing the health risk for everyone.
Our ceremonies will be virtual, but with some personal touches we hope will be meaningful.
Here is what we are planning:
---
Fall 2020 Convocation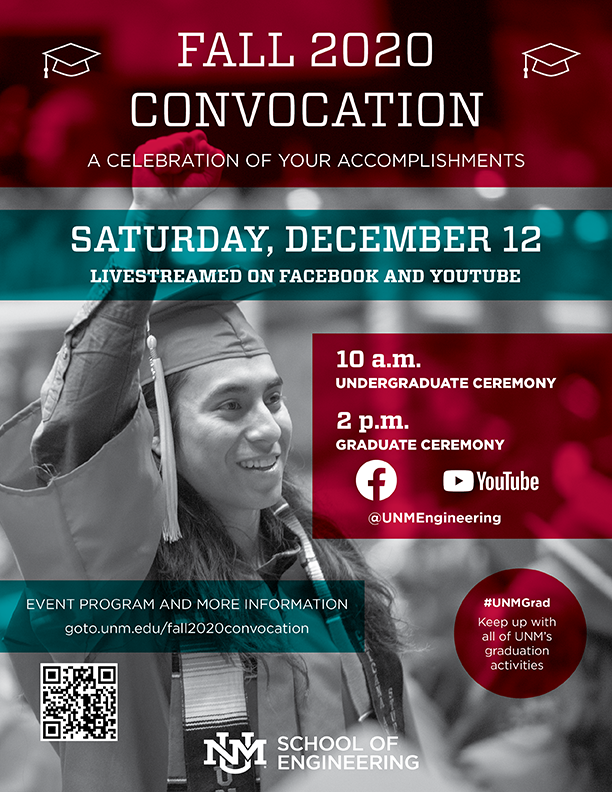 On Saturday, December 12, we will hold two separate virtual ceremonies for graduates, a ceremony for undergraduates, and a ceremony for graduate students. We are planning to stream each ceremony live on Facebook and YouTube so that friends and family may view the ceremony.
Undergraduate Ceremony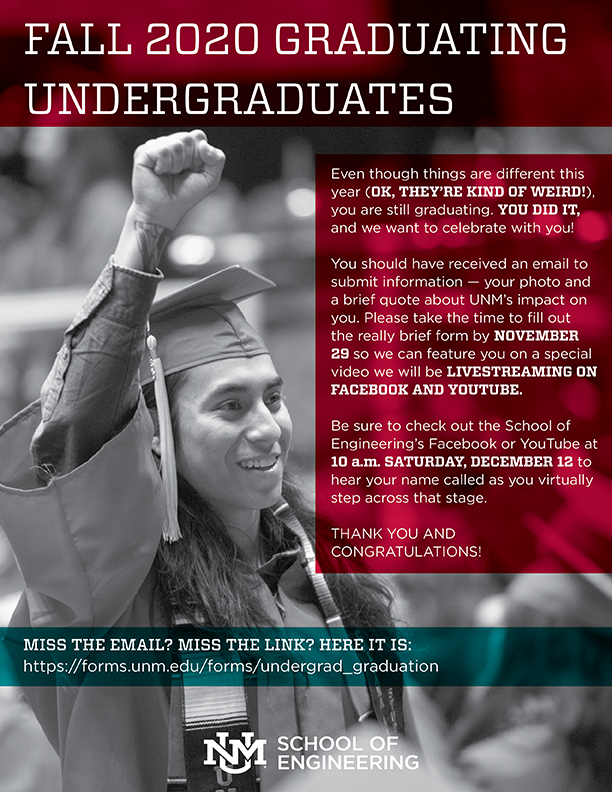 For the undergraduate ceremony, in order to provide a more personalized experience, each graduate's name will be called and a slide with the graduate's name, degree, and quote will be displayed. Submit photos and information here. The deadline for submissions is November 29.
Graduate Ceremony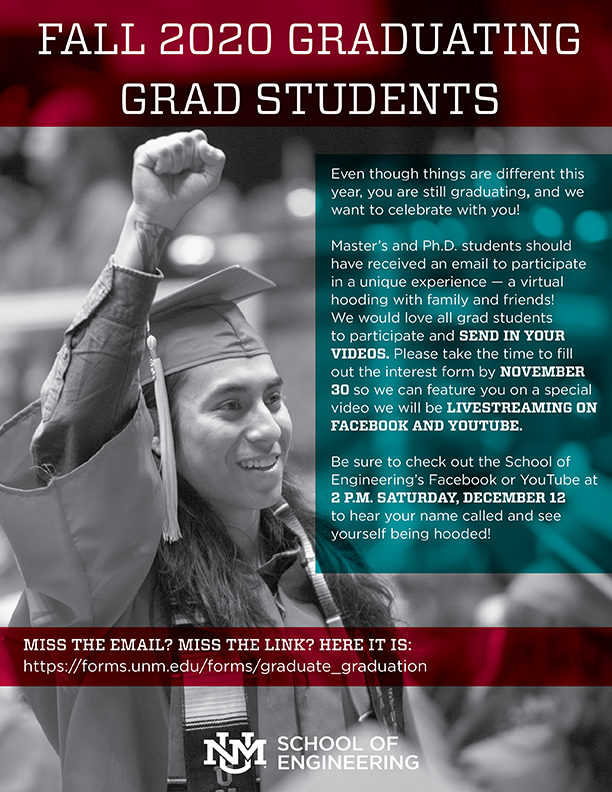 For the graduate ceremony, each graduate's name will be called as they receive their degree, and we are planning for a way to have each student hooded by a family member or friend (in lieu of their advisor as in the in-person ceremony). Submit photos and information here. The deadline for submissions is November 30.
---
Even though the celebration will be virtual, cap and gown will be required for any masters and Ph.D. students who want to participate in the live hooding. Caps and gowns can be obtained from the UNM Bookstore. Students who do not wish to participate in the live event can instead submit their headshot to be included on a slide when their name is called (information on this will be forthcoming).
We will also have a Convocation program, which will be available here on the School of Engineering Convocation website. Since many consider the program as a special keepsake, we will print a limited number upon request, which will be mailed out to graduates in early 2021. Look for a separate email on how to order keepsake programs later in the semester.
The website for all things Convocation will be https://goto.unm.edu/fall2020convocation. In the coming weeks, this site will be updated with the latest information, and it will house all of the Convocation materials.
UNM-wide graduation activities will also be announced soon. For additional details and information on the UNM Commencement, go to http://graduation.unm.edu.
On behalf of the School of Engineering faculty and staff, I congratulate you once more and I hope to see you (virtually) at the fall 2020 School of Engineering Convocation ceremonies.
Sincerely,
Christos Christodoulou
Jim and Ellen King Dean of Engineering and Computing